Wusthof Giveaway: Win Wusthof Five Piece Kitchen Tool Set. ($200)
Wusthof Giveaway: Win Wusthof Five Piece Kitchen Tool Set. ($200)
Fill iout the giveaway information, and you'll be entered for a chance to win a Wusthof Five Piece Kitchen Tool Set. ($200)
Valid Till 2020-06-05
Prize Value$200
FrequencyDaily
Wusthof Canada Contests
Are you looking for quality kitchen knives and tools?
Then Wüsthof, the quality knife maker from Soligen, Germany should be on the top of your list.
And if you want to win some free Wusthof kitchen gadgets check out the new giveaways below and also follow @wusthofcanada on Instagram and Facebook.com/WusthofCanada.
"23304"]
Wusthof Kitchen Tool Giveaway
Leites Culinaria is giving away a Wusthof Five Piece Kitchen Tool Set. ($200)
The sweepstakes begins on April 10th and ends on June 5th, 2020.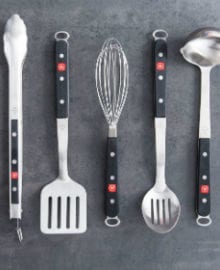 The Wusthof Giveaway Sweepstakes is open to residents of the fifty U.S., D.C. and Canada (excluding Quebec).
You must be 18 years of age or older to participate.
To participate in the Leite's Culinaria Wusthof Sweepstakes
Go to www.leitesculinaria.com
Enter your name and email
Then click "ENTER"
Two entry per person per e-mail address per day is allowed. Go to www.leitesculinaria.com click here to enter
"23367"]
Planning a special meal for Dad? Visit Wusthof and enter the Father's Day contest on Facebook.com/WusthofCanada for a chance to win a Steak Knife set. Prizes: a WÜSTHOF Stainless Steel 8-Piece Steak Knife Box Set, value of $199, enter at facebook.com/WusthofCanada/