Tim Hortons Contests: #TimsPupRun Win Tims plush dog toys
Tim Hortons Canada Contests 2023 Tim Hortons National Dog Day #TimsPupRun and Free Tim Card Giveaways 
Fresh Tim Hortons Coffee and Hot Prizes
Want to win free Tim's Coffee, Gift cards, Trips and cash? Then you come to the right place.
Tim Hortons has several contests a year.
Everyone knows Tim's Roll up the Rim Giveaways, but there are many more chances to win prizes.
This week enter on Facebook for a chance to win
Tim Hortons Prizes and Gift card Giveaways
---
Tim Hortons National Dog Day Giveaway
Win a set of adorable limited-edition Tims-themed dog toys, a plushy and squeaky Tims Cup and Timbits Box! There are a total of 30 Prizes to be won, each consisting of
two Tim Hortons-branded plush dog toys
The value (ARV) of each Prize $22.00 CND.
The contest runs from Aug. 21 – Aug. 26. Canada only. Rules apply. See news.timhortons.ca/contest for more details.
Facebook
To enter, visit Tim Hortons on Facebook.com/TimHortons and share a picture or video of your dog on a Tims Run with you in the comments.
---
Instagram:
To enter the Contest on Instagram.com/TimHortons , post on your Instagram account featuring your dog on a Tim Hortons Run and tag the post with "#TimsPupRun" and Tim Hortons using @TimHortons
---
Tikok
To enter the Contest on TikTok, post a TikTok Stitch on your TikTok account featuring the original TikTok contest kick-off post from Tim Hortons; and tag the TikTok Stitch with the Hashtag #TimsPupRun and Tim Hortons using @TimHortons
For contests and promotions, stay tuned to www.twitter.com/TimHortons and
---
This month enter to win Tim Horton's gift cards from Royal Draw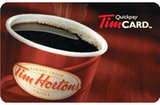 Image all the double-doubles and Timbits you could enjoy! Royal Draw is giving Canadians another chance to win free Tim Hortons gift cards.
Royal Draw & Tim Hortons Contest details:
Prizes: There is one $50 Tim's gift card to be won.

Open to residents of Canada, who 13 years and older (excluding Quebec)
Entry limit – once
Enter at Royaldraw.com
---
Popular TimHortons.com Giveaways
You could have to honour to create the next great donut to be sold at Tim's if you are the Winner of the Dueling Donut's contest.
---
Tim Hortons Holiday Bear Giveaway
Win Tim Hortons Holiday Bears for you and your entire street. One First prize winner will receive a 30 x 8ft x 5ft inflatable festive bears holding an over-sized Tim Hortons cup, ARV CAD $ 535 each and a selection of Tim Hortons hot drinks and baked goods, ARV CAD 1,500. The total ARV of a grand prize is CAD $17,550. Five Secondary prize winners will receive a 1 x 8ft x 5ft inflatable festive bear holding an over-sized Tim Hortons cup, ARV CAD $ 535 each. The contest ends on December 7, 2021, Open to legal residents of Canada, ages 16+. To participate, fill out and complete the entry form at News.timhortons.ca here to enter
---
TimHortons.ca Tim Biebs Giveaway – Win Tickets to Justin Bieber Concert
Win Tickets to a Justin Bieber Concert. One grand prize per US, one for Canada. The winner will get a trip to see Justin Bieber in concert (including two (2) Justin Bieber concert tickets, a $2,300 CAD/USD prepaid credit card to use towards transportation to/from the concert destination city, hotel accommodations and other trip expenses, and a Tim Hortons 'swag bag'). The total $2,796 – 3,196 CAD. Plus 20-second prize winners will get a $100 CAD/USD Tim Card gift card. To enter, buy a Timbiebs 10-pack and scan your Tims App or Rewards card. At participating restaurants in Canada for a limited time, while supplies last. The contest is open to registered Tims Rewards members aged 13+ in Canada only. more at timhortons.ca/timbiebs-promotion
Win 5 Tims Rewards Points, FREE coffee for a week and more
#DoubleDoubleCard Contest, Share your love The CIBC Tim Hortons Visa card on your Twitter or Instagram page for a chance to win Tim's cash prizes this summer. Comment why you love your Card by posting on Twitter or Instagram using hashtag #DoubleDoubleCard and @TimHortons
Enter at http://apps.timhortons.com/doubledoublecard/
Tim Hortons #SummerWithTims Contest
Cool down this summer with a cold drink from Tim Hortons could win you a $50 Tim's card. Just snap a selfie of yourself enjoying a cold Tim Hortons drink and post it on Twitter or Instagram using the hashtag #SummerWithTims.
Prizes: 12 prizes, each a weekly prize of a $50 Tims Card
Dates: weekly, from Thursday to Wednesday. Ends on August 23, 2017
Open to residents of Canada, who 13 years and older (excluding Quebec)
Entry limit –
more at https://www.instagram.com/timhortons/
About Tim Hortons
Tim Hortons is a Canadian fast-casual restaurant, famous for its coffee and doughnuts. The chain was founded in 1964 in Ontario by Tim Horton (a Canadian hockey player) and Jim Charade. When Horton died in 1974 his investment partner Ron Joyce took over operations and expanded it into the large chain franchise we know today. As the Tim Hortons chain grew in Canada it eventually took over McDonald's for the top spot – Canada's largest foodservice. There are currently over 4,500 Tim Hortons locations in Canada with an additional 800+ in the United States and 38 in the Persian Gulf. On August 26, 2014, Tim Hortons made the news again when Burger King purchased the company for $11.4 billion US dollars. We'll have to wait to see what impact that has – if any.
Enjoy Tim's at Home
If you like Tim Hortons coffee and beverages, you should also be happy to know that you can enjoy the Tim Hortons experience at home too. They have a line of at-home products ready for purchase online or in-store. The line includes take-home coffee, single-serve coffee cups, Tassimo single-serve beverages, specialty beverages, and specialty teas.
The Tim Hortons contact page features a list of frequently asked questions. They range from questions about coffee and the Tim Card to questions on corporate and shareholder issues. If you have any additional questions there is a customer service team waiting to help. You can contact Guest Services by phone by dialling 1-888-601-1616,. For comments on your most recent visit to Tim Hortons, you can take a guest survey to share your opinions. The survey only takes about 2 minutes and by answering the questions you'll be entered to win free coffee for a year. Tim Hortons is also active on Twitter. They urge you to send your comments to @TimHortons to reach out to the company in 140 characters or less.
Free Tim Card promotion – Timhortons.com/gift-of-coffeeThe holiday season is all about giving! This month you can receive a $10 TimCard when you purchase 3 eligible Tim Hortons products at any participating grocery store.
How to get yours
Buy 3 eligible Tim Hortons products (on one receipt) between November 16th and December 31st,
take a photo of the receipt.
share a photo of your receipt as proof of purchase at www.timhortons.com/gift-of-coffee.
Timhortons.com/gift-of-coffee details:
Prizes: free $10 Tims card with purchase, While quantities last,
Dates: buy between November 16th – December 31st, All submissions must be received by January 31
Open to residents of Canada, who 13 years and older (excluding Quebec)
Entry limit – once
more at www.timhortons.com/gift-of-coffee.