CNET.com Giveaway: Win Zwilling Cookware set & Air Fryer
CNET.com Giveaways 2019, iPhone Sweepstakes
Want to get the best product reviews, tech news, and software downloads,
then head on over to CNet.com and while you are there, check out contests and giveaways like the following two below!
The "CNET and Chowhound's Thanksgiving Giveaway Sweepstakes
CNET is giving away the following prize pack:
 Zwilling cookware set,
a Zwilling 8 piece knife block set,
a Zwilling carving knife and fork,
a Zwilling Gourmet Roasting Pan, the top rated Instant Pot IP-DUO60
 Ninja Air Fryer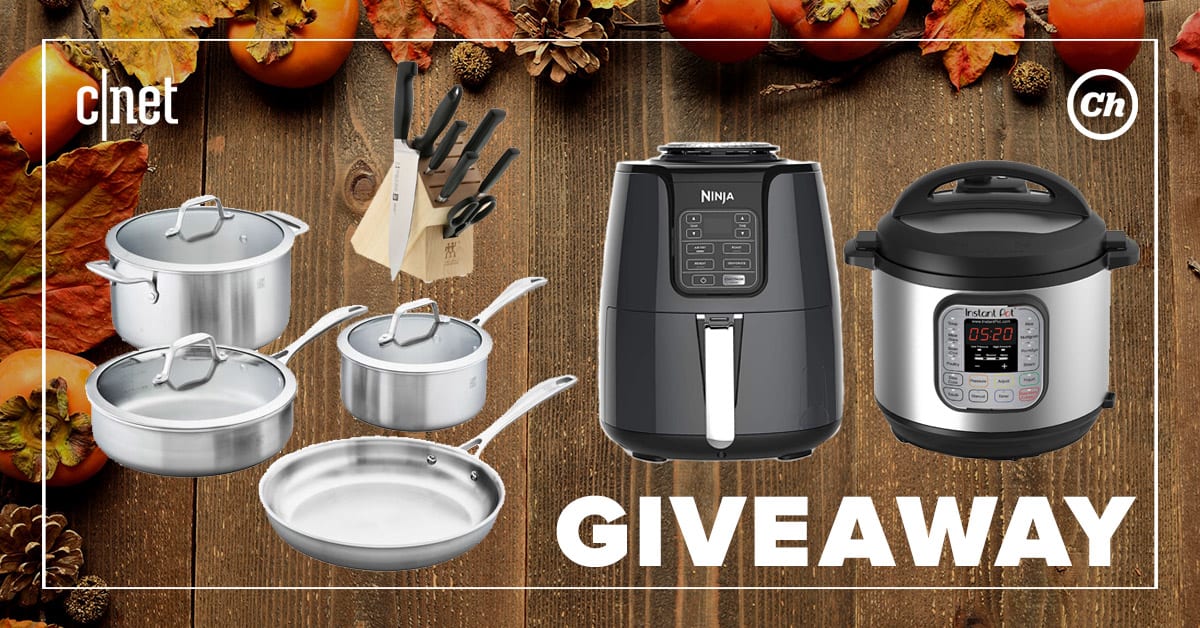 ---
The "CNET Giveaway" contest ends on November 18, 2019.
The prize winner will be selected in a random drawing and MUST respond within 3 days.
The "CNET Zwilling Giveaway" contest is open only to the residents of the U.S., Puerto Rico and Canada. You must be 18 years of age or older to participate.
To participate in the "CNET Giveaway" contest
Go to www. cnet.com/thanksgiving-giveaway  here
Click on "EACH DAY" button corresponding to the date you visit the contest page
Enter your name, email address and complete the contest form
Then click "Enter Now"
Then complete the actions for additional entries (this is optional)
Only one email per person per day is allowed.
Go to www.cnet.com click here to enter
LIKE if you want to win this prize!
Share so your friends can win too 🙂
Win Tech Stuff with CNet Giveaways
This season you could turn your wishes into cash with the 10 days Cnet Holiday Wonderland contest
Register at Cnet.com (if new) and visit the Holiday Gift Guide, then add your favourites to
Your wish list. Come back daily to enter
Prizes include:
Winter Wonderland Sweepstakes. 

Daily Prize: 1: US$50, Daily Prize: 2: US$75, Daily Prize: 3: US$125, Daily Prize: 4: US$150,Daily Prize: 5: US$250, Daily Prize: 6: US$350, Daily Prize: 7: US$450, Daily Prize: 8: US$550, Daily Prize: 9: US$1000, Daily Prize: 10: US$2,000 

Enter at www.cnet.com/winner-wonderland/
Sony Aibo RobotDog Giveaway. How about owning a does without having to pay the vet and food bills? CNet and Sony have teamed up for a robot dog giveaway. There is one grand prize to be won. The winner will receive a Sony Aibo robot dog with a value of US$2,900.
CNET  Google Pixel 4 XL.The prize includes Google Pixel USB-C earbuds, a total value of over $1,000.
The CNET GAMESPOT "GIVEAWAY" Sweepstakes. CNET and GameSpot are giving away One grand prize, One first prize, and Two-second prizes. One TCL 6-series 65-inch TV
One PS4 bundle and One NERF Fortnite AR-L Elite Dart Blaster. The Grand Prize is $1,800.00 USD.